Although raw "noodles" may sound unappetizing to some, raw food has so many amazing benefits – and you don't have to be a vegetarian or "raw foodie" to enjoy them.
Nutrients in raw food are fully present and easily absorbed by your body. In fact, some studies have shown that diets rich in raw foods can reverse some signs of aging and even correct symptoms of various diseases. Try this raw pasta for a delicious raw meal that even the biggest skeptics will love!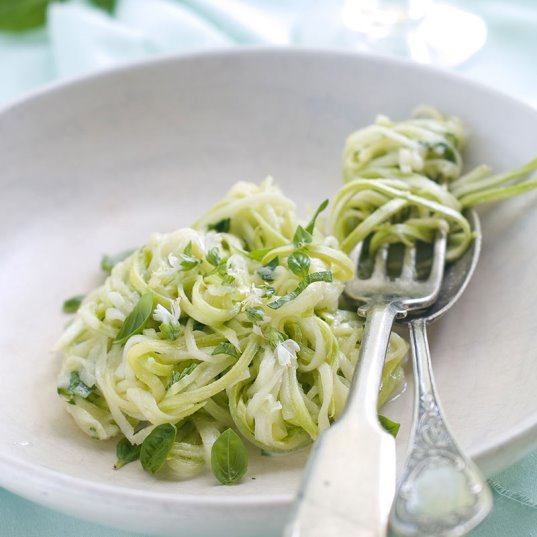 Ingredients(makes about 4 servings)
2 six to eight inch zucchinis, peeled if desired
Pinch of Celtic sea salt
1 cup of basil leaves
3 Tbsp. of raw hemp hearts
¼ cup of pine nuts or raw walnuts, or raw cashews
¼ cup of olive oil, plus a bit more for consistency
1 clove of garlic crushed
Pinch of sea salt
Directions
1. If you are using a spiral slicer for your noodles, trim both ends of the zucchini straight so as to line up evenly and flush between the holder and the blade. Begin winding and the spaghetti-like noodles will form through the openings of the blade. Remove the core and keep to use for another dish.
For fettucini-like noodles, use a potato peeler to peel the zucchini into wide strips. Set your noodles aside.
2. For the pesto, combine the basil, olive oil, nuts, garlic and sea salt into a Blendtec blender and combine until an even consistency is achieved. You can add a tiny bit more olive oil for consistency if needed.
3. Toss the noodles with the pesto, season with sea salt, and serve immediately. Waiting to serve will result in softer noodles and a watery residue as the zucchini loses its moisture, but will still taste good. Enjoy!
** This recipe was provided by http://www.alkalinesisters.com/zucchini-noodles-w-basil-and-hemp-nut-pesto-the-benefits-of-a-completely-raw-meal/1441/