This raw dish may look super fancy, but it is actually very easy to prepare.
Not only does it taste great, but because it's served raw none of the vitamins or minerals are lost in a cooking process, meaning you get the true nourishment your body needs to function at its best. If you're not used to raw eating, get out of your comfort zone and try this delicious dish – you (and your body) won't be sorry you did!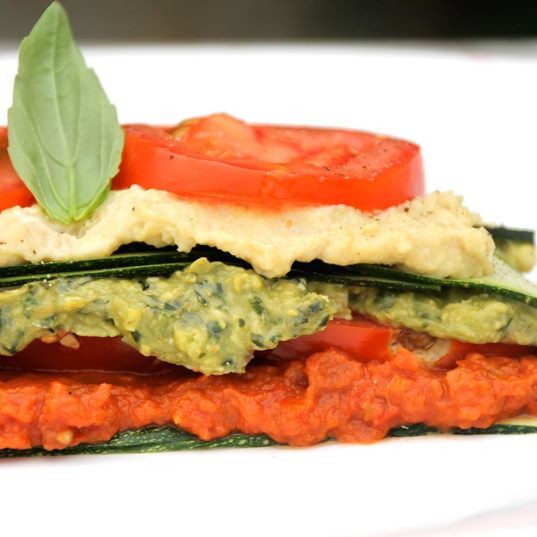 Ingredients(makes about 2 servings)
Lasagna:
2 large zucchini
3 plum tomatoes
Cashew Ricotta:
½ cup of cashews
Juice from 1 lemon
½ clove of garlic
5 tablespoons of nutritional yeast
2 tablespoons of water
** Add the nutritional yeast after the cashews are crushed
Sun-dried Tomato Sauce:
½ cup of sun-dried tomatoes
½ cup of cherry tomatoes
1-2 Medjool dates
Avocado Pesto:
1 avocado
2 cloves of garlic
1 cup of fresh basil
½ cup of pine nuts
Juice from ½ a lemon
Directions
1. Start by separately blending the three different sauces using your Blendtec blender, then put in three separate small dishes and place to the side.
2. Cut the zucchini in half, then using a peeler or sharp knife, cut or peel the zucchini into thin strips.
3. For the lasagna you will need to do different layers of zucchini sheets, so divide the strips into four neat piles. Then slice the tomatoes very thinly.
4. Layer zucchini strips, cashew ricotta, avocado pesto, and sundried tomato sauce in alternating layers just as you would assemble a traditional lasagna.
5. Plate your raw dish and enjoy!