Finding a "comfort" food that isn't full of cheese, tons of calories, too much salt and saturated fat doesn't have to be difficult.
This recipe demonstrates just that! Filled with vitamins and nutrients, this flavourful "comfort soup" is perfect for those days when you just want to snuggle up with a blanket and good bowl of chowder.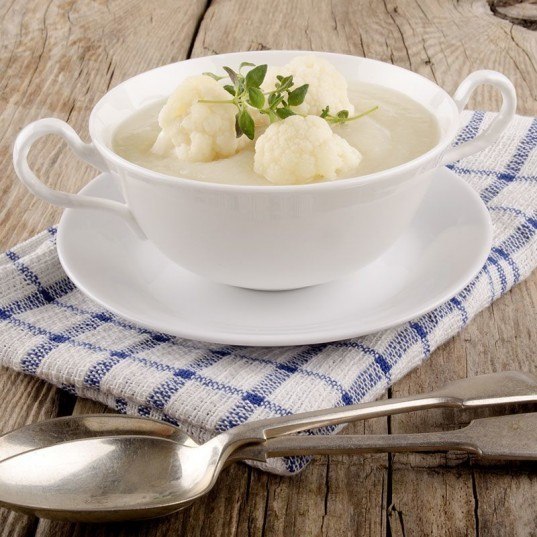 Prep Work
To prepare the batch of cashew cream you will need for this recipe you will need 1 cup of raw cashews and 1 ½ cups of water. Place the cashews in a Blendtec blender then just enough water to cover them. Blend the two ingredients to make a paste. Then use the rest of the water and blend until completely smooth.
Ingredients (makes about 3 servings)
2 Tbsp. olive oil
1 Tbsp. of butter
1 sweet onion, halved and sliced
4 garlic cloves, minced
1 large cauliflower, cut into florets
2 medium red potatoes, skin on, diced
4 cups of water
1 roasted yellow pepper, skinned , seeded, and chopped
1 batch of cashew cream
Heaping Tbsp. of mild yellow miso
Heaping Tbsp. of Dijon mustard
½ cup of nutritional yeast
Salt and pepper to taste
Directions
1. Heat your oil and butter in a large oversized pot over low/medium heat. Add in the garlic and onion, then sauté until the garlic and onion are nice and golden.
2. Add in the potatoes, cauliflower, and water with a bit of salt. Bring it all to a boil, reduce the heat to low and cover. Allow it to simmer until your cauliflower is tender, which should be around 15-18 minutes.
3. Using a slotted spoon, remove half of your veggies and put them in your Blendtec blender. Add in the roasted yellow pepper and blend until smooth.
4. Add the blended veggie mixture and the cashew cream back to your pot and combine, then add in the Dijon mustard, miso, and nutritional yeast.
5. Season with a bit of pepper and a pinch more salt if needed. Re-heat slightly if needed before serving. Enjoy!