Get whisked away to eastern lands with this delicious soup.
Get whisked away to eastern lands with this delicious soup that not only features my top 3 must-eat spices that boost immune function AND metabolism, but is also vegan! So no matter what your special nutritional needs are, you can get your soup on with this flavourful, detoxifying recipe.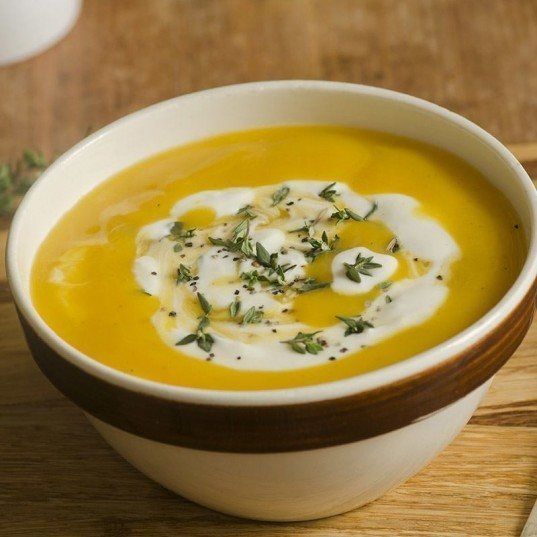 Ingredients
1 tsp. of extra virgin olive oil
4 cloves of fresh garlic, minced
1 inch piece of fresh ginger, peeled and grated
2 tsp. of ground curry powder
1 tsp. of ground turmeric
½ tsp. of ground cayenne pepper
1 medium sweet onion, peeled and diced
4 medium carrots, peeled and diced
1 cup of cauliflower florets, chopped
1 large Granny Smith apple, cored, peeled and diced
2 cups of cabbage, thinly shredded
6 cups of water
1 16-ounce can of chickpeas, drained and rinsed
Small pinch of Celtic sea salt, to taste
2 cups unsweetened coconut milk
Juice of 1 lime (*rolling a room temperature fruit across a hard surface will loosen its juices!)
Chopped fresh cilantro for garnishing
Directions
1. Heat the olive oil over medium high heat using a large pot. Add the garlic, ginger, curry, turmeric, and cayenne and stir until fragrant, about 30 seconds.
2. Add in the carrots, onion, cauliflower, apple, and cabbage, and sauté until softened, which should be about 7-10 minutes.
3. Stir in the water, chickpeas, and sea salt. Bring to a boil, then reduce heat and cover and simmer, stirring occasionally, until vegetables are tender, about 20-30 minutes.
4. Remove from heat and add the coconut milk and lime juice. Stir to combine.
5. Return to heat on low (do not let it boil as coconut milk with curdle) and adjust seasoning as required. Ladle into bowls and enjoy!