Pies are a classic dessert. But what if you had a pie that was not only good for you but could also go anywhere?
Well, here you go! These pies will work for any occasion, including special holidays or just fast paced workdays. This scrumptious treat will provide you with nutrients your body needs, and satisfy any sweet tooth, no matter what the day requires of you!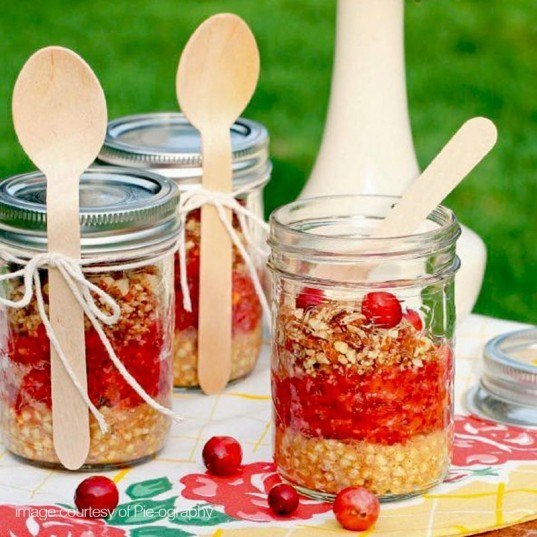 Prep Work
Put 1 cup of raw untoasted buckwheat in filtered water for 20-30 minutes. Rinse well and drain, then pat with a paper towel and set to the side.
Ingredients make about 6 servings
2 cups of raw organic cherries (save a few for garnishing)
1 organic pear, not too ripe
¼ wedge of an organic orange, with the skin on
Juice from ½ an orange
1 cup of soaked raw untoasted buckwheat
8 dates
½ cup of raw organic almonds
½ cup of raw organic pecans
1 ½ tsp. of cinnamon
⅛ tsp. of ground cloves
⅛ tsp. of allspice
2 Tbsp. of maple syrup
1 tsp. of vanilla
Special Equipment
6 mason jars (many sizes and styles are available, but I prefer 8 ounce jars
Directions
1. In a bowl combine the soaked buckwheat with ¼ teaspoon of cinnamon, juice of ½ an orange, 2 Tbsp. of maple syrup, and ½ tsp. of vanilla. Set this mixture aside.
2. Using a Blendtec blender, blend the cherries, pear, ¼ orange piece with skin on, 6 dates, 1 tsp. of cinnamon, ⅛ tsp. of allspice, ⅛ tsp. of ground cloves, and ½ tsp. of vanilla. Blend until you have the texture of a puree, then set aside and rinse the blender. This is your filling.
3. For your pie topping, put the almonds, pecans, 2 dates, and ¼ tsp. of cinnamon in the blender and pulse until you get the texture of a crumbly meal.
4. Start layering by filling the mason jars with a hefty portion of the buckwheat mixture, then 2 scoops of the of the cherry mixture, then top it off with nut crumbles and add a cherry or two! Place the lids on the jars until ready to serve. You can even tie a small spoon to the side of the jar with butcher string for later.
** This recipe was provided by http://www.alkalinesisters.com