Has your bread-cutting diet got you looking for a breakfast or snack that's not only delicious but bread-free?
Look no further! These protein filled pancakes will stave off the bread cravings while giving you a dose of metabolism revving protein with a side of spice! Research shows that lean muscle helps burn fat at rest – so this muscle-building breakfast is the perfect (and delicious) way to the lean physique you're after.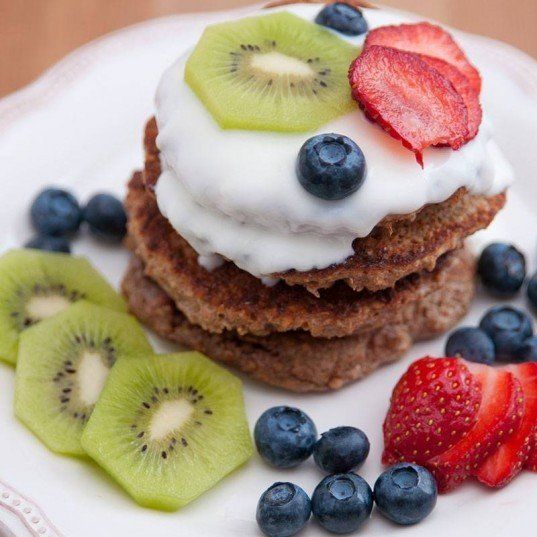 Ingredients
¼ cup liquid free-run egg whites
1 scoop Organic New Zealand iso-whey or plant-based protein powder
2 Tbsp. unsweetened plain almond or hemp milk
1 tsp. of cinnamon
1 Tbsp. ground flaxseed
¼ cup plain instant rolled oats
⅓ banana, mashed
1 Tbsp. plain Greek yogurt
1 Tbsp. natural coconut flakes
¼ cup fresh blueberries, mashed
1 tsp. organic dark honey
1 tsp. grape seed oil
Directions
1. Combine the first 6 ingredients and mix. Now mix in the banana, followed by the yogurt, berries, and honey.
2. Heat a pan on medium heat and add the oil. Pour the batter into pan and leave until you see little bubbles forming on the top. Flip and then continue to cook until the middle is done.
3. Serve and enjoy!