Tomatoes are known for being full of lycopene, a phytonutrient traditionally found in red fruits and vegetables.
Lycopene is a powerful antioxidant that protects against diseases by neutralizing free radicals in your body. And it's not just red tomatoes that are full of lycopene, but orange ones, too. So get your delicious dose with this colourful, stacked tomato salad.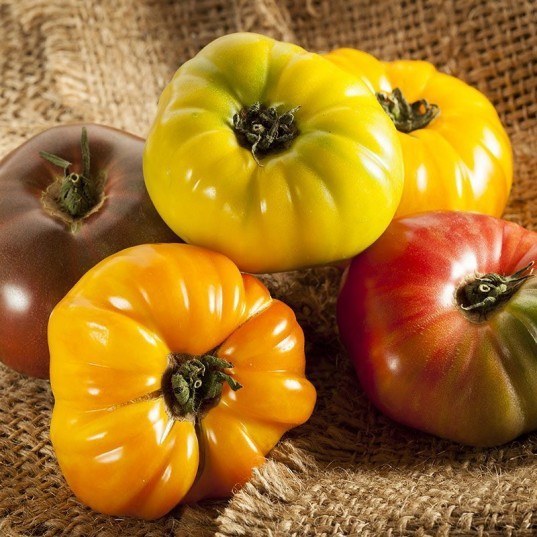 Ingredients (makes 4 servings)
8 large ripe organic multi-colored heirloom tomatoes
8 large fresh organic basil leaves
1 large ripe organic Meyer lemon
1 cup organic pea pod sprouts, or your favorite sprouts
OPTIONAL: extra virgin olive oil (cold pressed) and sea salt to taste
Directions
1. Lay the tomatoes on their sides. Slice into 6-8 even slices and set aside. Reserve the ends for another recipe.
2. Wash and spin dry the basil leaves, stack together going the same way, trim the stems off, roll tightly and make medium slices width wise to create ribbons. Set aside.
3. Zest the lemon and reserve. Juice the lemon and reserve. Wash well and spin dry the sprouts and set aside. On your serving platter arrange the sprouts to make a bed.
4. Stack the tomato slices on top of each other into 4 even stacks on the sprout bed to create a rainbow in their colors (like shown in the above photo).
5. Evenly drizzle the lemon juice on top of the stacks. Evenly distribute the basil ribbons on the top. Now sprinkle evenly with the lemon zest. Serve and enjoy!
** This recipe was provided by http://kriscarr.com/recipe/rainbow-heirloom-tomato-stacks/