Let's face it: breakouts are a total bummer. And sometimes it seems like no matter how many cleansers, creams, and expensive masks you try and buy, it just doesn't seem to get better. And that may be true.
Topically applied products can definitely help, but I believe in healing the skin from the inside-out. Here's why: our skin is actually one of the biggest detox organs we have. When our body is detoxifying, those unwanted components can often come out through the skin.
Bad digestion only makes it worse. When we're constipated or our digestion system is not functioning well, our body is smart enough to know it needs to find a different way to get rid of any unwanted toxins. The next measure of defence? To use the skin as a way to process them out.
Excess hormones are also ditched through our stool, which is another reason why digestion is so important for healthy skin. An abundance of certain hormones can lead to serious skin issues, so maintaining a balance of those hormones and getting rid of the excess can only help your skin.
If breakouts are an issue for you or you have acne-prone skin, you are going to love these tips. Keep reading to find out the 5 Best Foods for Acne Prone Skin!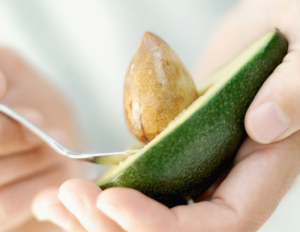 Avocado
There are so many reasons to love avocado, and it's ability to promote fresh healthy skin is one of them. Firstly, fat is important in keeping the skin supple and hydrated. Avocado is a great source of healthy fats, and can work to reduce dryness and signs of aging.
Secondly, fat is also important for the manufacturing of hormones. All hormones are actually fat-based! So getting enough through diet to support the production of those hormones is a must – and not getting enough can lead to imbalance. An imbalance of hormones can trigger acne and breakouts. Eating enough healthy fat can help you avoid this. Avocado on everything!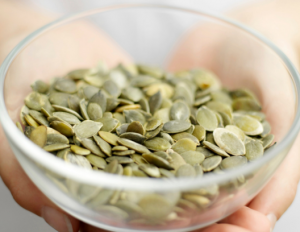 Pumpkin Seeds
Pumpkin seeds are high in lots of essential minerals like iron, magnesium, manganese, and zinc. Zinc is a healing mineral. If your skin is damaged, zinc is your friend! Zinc also stops overproduction of oily-sebum, which is the substance that is secreted through your pores to help keep your skin moisturized. We need sebum to some extend, but over production can lead to problem skin. Add these to a salad or snack on them daily for better skin!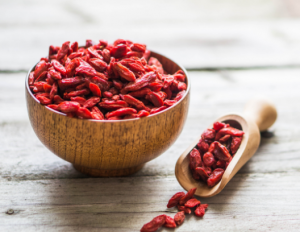 Goji Berries
Goji berries stand out from so many other foods for one reason specifically: they are very high in antioxidants. Antioxidants help fight free-radical damage. This can effect any part of your body, but most noticeably your skin. The high vitamin C content helps to reduce inflammation in your skin, and also promotes collagen production which helps with elasticity. The vitamins, minerals, and phytonutrients found in goji berries can also work to reduce hyperpigmentation, as well as fight bacteria. Goji berries are so much more than a "superfood" – they're a super skins saver.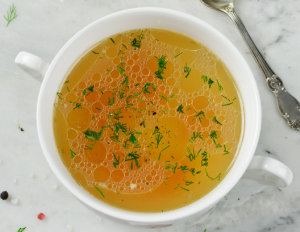 Bone Broth 
Bone broth is a great skin-booster, because it contains lots of collagen! Collagen is a skin-building protein, and is actually essential to strong, healthy skin! It can even help with elasticity and hydration. Dry skin can be a trigger for an acne breakout, so working to avoid dry skin is really important.
Not only that, but collagen also helps boost your gut health – which as we now know is connected to the health of pretty much everything else. Collagen promotes the health and integrity of the gut lining, reducing the amount of particles that could end up being detoxed through your skin.
You can also buy collagen as a supplement and add it to pretty much anything – soups, smoothies, elixirs – the sky is the limit. As long as you are getting lots of collagen in your diet, you're providing your skin with the support it needs to look and feel amazing.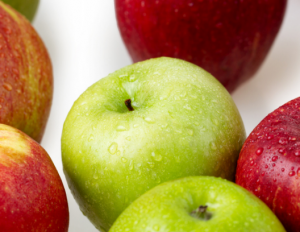 Apples 
Apples are totally underrated. Not only are they one of the most inexpensive fruits, but they actually do come with a ton of benefits! First, apples are high in antioxidants, which as mentioned are amazing for fighting free radical damage. But apples are also high in fibre and also have a contain a helpful amount of water as well. This water and fibre works together to help keep your digestion top-notch. This ensures that any toxins leaving your body are directed through the proper channels – promoting healthy detox pathways and leading to healthier, more radiant skin!
Battling bad skin is awful, but there are good foods that can help. Start utilizing healthy foods daily to help combat your acne-prone skin – you won't believe the difference.