The winter season comes with it's own list of pros and cons.
Pros: warm, cozy scarves, hot beverages, healthy comfort food, quality inside time with loved ones, building snowmen.
Cons: icy roads, getting out less, lack of sunlight, super dry skin.
While there's not much we can do about the weather itself, or the amount of sunlight we get throughout the day, we can support our skin and keep it fresh and healthy looking all year round.
There are some key foods I utilize throughout the colder months to keep my skin looking healthy and balanced. I'm going to share those with you today, and I hope you'll try them! Incorporating these regularly is guaranteed to make a difference in the look and feel of your skin.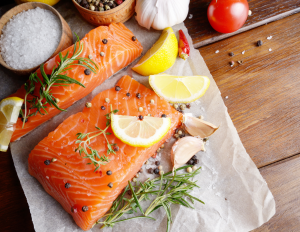 Salmon
A healthy amount of dietary fat gives skin that supple look. More specifically, omega 3 works to keep your skin looking moisturized. A deficiency in omega-3 fatty acids can actually result in dry skin.
Omega 3 is also a potent anti-inflammatory. If you're dealing with any inflammation or irritation on top of dryness, this fatty acid can also help in keeping your skin protected and nourished. Fatty fish like salmon are high in omega 3s. Looking for a plant-based alternative? Try avocados, nuts, or seeds.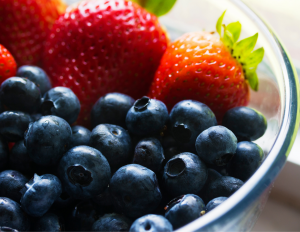 Berries
Dry winter skin can be easily irritated, and could be more prone to damage. You can protect your skin from damage by including antioxidant-rich food or beverages. Antioxidants help your skin by protecting against free radical damage.
Some of the best food sources of antioxidants include blueberries, blackberries, and goji berries. They can also be found in dark chocolate. Ginger and green tea also contain a high antioxidant content too.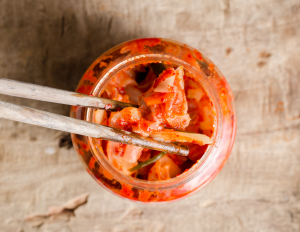 Kimchi
You know regulating your gut health is going to improve your digestion, but did you also know it can improve your skin? Your body relies on getting rid of unwanted toxins through elimination. When this body system isn't functioning properly, your body needs to find another way to get rid of these toxins.
Your body can utilize another detoxification organ: your skin. When these toxins come out through your skin, this can cause dryness, irritation, and damage. In the winter, your skin is already susceptible to these, and struggling with your gut health can only compound this issue!
One food you could try incorporating is kimchi. Great on top of a stirfry or a salad, kimchi is really high in strains of healthy bacteria which promote healthy digestion.
Looking to add some topical treatments to your skin routine too?
Lately I've really been loving Gaelle Organic. The skin care products they make are all certified organic, and free of the synthetic chemicals you'll find in other brands. They make some ultra-moisturizing products I love for the winter.
CRÈME SUPÉRIEURE – This is a creamy anti-aging moisturizer that's intended to restore a more youthful appearance to your skin. It includes soothing compounds like shea butter and aloe vera, and will leave your skin looking flawless and luminous.
BALM SUPÉRIEURE – Some facial cleaners can leave your face irritated and flaky. This cleansing balm effectively removes makeup without leaving your skin dry. It's effective, but also really gentle on skin.
BODY CRÈME SUPÉRIEURE – When it comes to skincare, we tend to focus on our faces first. But let's not forget the rest of our skin! This organic body lotion helps with both dryness and sensitivity. I recommend applying liberally after a shower or bath.
If you are interested in these products and would like to try them, I do have a discount code for you! Enter this code at checkout if you want to use it: ADELE15
You can see these 3 products and more here : Gaelle Organic
There are ways you can support your skin, from the inside out, as well as the outside in. I hope these tips help you and your skin get through the cold winter months!